Disposable Shelter Tent Outdoor Ultralight Portable Camping Shelter - Orange.
How to use:
Folding tent open shop on flat ground, that came through the nylon rope insidethe tent, the two ends of the rope fixed to trees orThe other can be a fixedposition, the bottom of the tent can be heavy ( such as bags, stones )pressed to a fixed position.
Note:
Do notopen when not in use, do not be too close to the fire.
Description:
Essential formany purposes, international general emergency life-saving essential goods, emergency treasure chest of.
1. Maintain bodytemperature, as a temporary first-aid equipment, waiting for the rearsupport.
2. in case of anaccident, applied first aid, in the field of injury can be bandaged thewound, avoid excessive bleeding, can be used as a temporary stretcher, can alsobe used Covering the injured body, both to prevent heat loss or exposure tothe sun, the effective reflection of radiant energy ( including body heat andsolar energy ) reached 80%, while similar to the mirror can be used fortraffic warning or send a signal to rescuers.
3. when used foremergency repair of vehicles, to avoid grease and spread out on the groundstaff when operating under clean conditions, the summer front windshield asthe car dark cool, can also be used for temporary table linen cushion when thetemporary poncho, when camping or picnic.
4. highstrength, the rope can be twisted in the longitudinal direction 1.5 t weight.
5. effective inhot climates reflected solar light and heat, to maintain body temperature.
Product features:
1. A body capableof reflecting 80% or more of heat, can be wrapped around the body of emergency, to avoid temperature loss;
2. wind, rain, reflection, rescue workers prone to attention;
3. folded smallsize, light weight, outdoor activities essential.
Specification:
1. Material: PE
2. Size: 240x150x90cm
3. Colour: orange/silver
4. Weight: 175g
5. Package: no package
Package includes:
1 pcs x Disposable Shelter Tent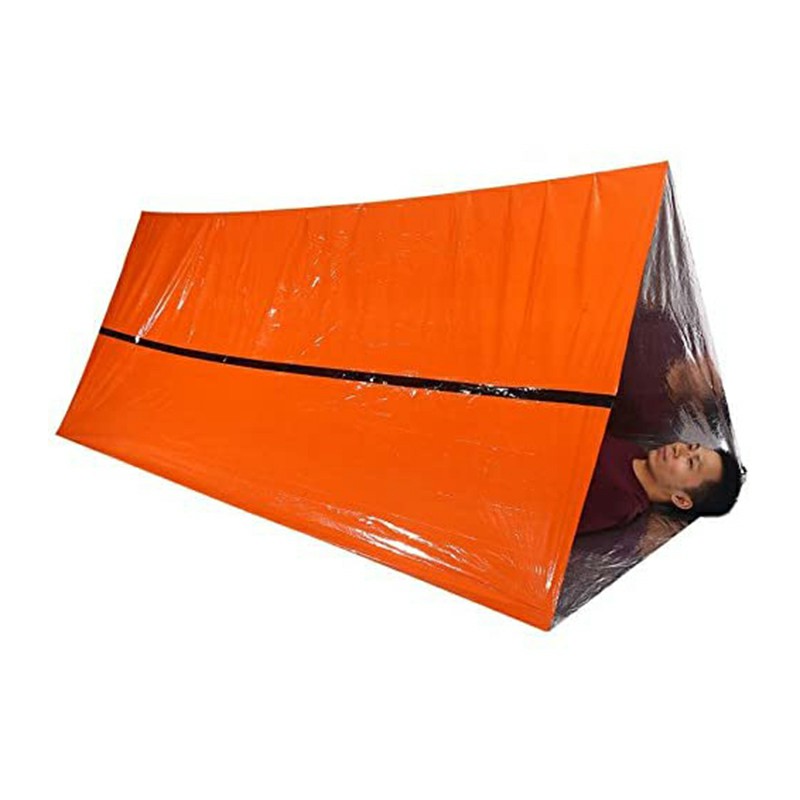 Express:
(1)Royalmail Large Letter for less than 2.5cm thickness and weight less than 0.7kg

(2)Royalmail Track 48H (2days) for large than 2.5cm thickness and weight less than 1.3kg.

(3)Hermes Track 2 days for Large than 2.5cm thickness and weight over 1.3kg.

(4)Parcelforce/DPD next day for purchase over £30 in UK general area only.

2.Postage:

(1)Free delivery to the whole country for Royalmail Large letter and Royalmail track 2 days.




(2)For some remote Area, if the parcel weight over 1.3kg, we will charge extra postage. There is an extra postage added automatically when checkout.










Extra postage charge for below area:




Outer Hebrides/Shetland

Northern Ireland

Channel Islands

Scottish Highlands and Islands

Scilly Isles

Isle of Wight

Isle of Man






weight Area





General Area

Outer Hebrides, Shetland

Northern Ireland

Channel Islands

Scottish Highlands and Islands

Scilly Isles, Isle of Wight, Isle of Man

0-1.3kg

£0

£0

£0

£0

£0

£0

1.31-15kg

£6

£5

£8

£6.8

£6.8

15.01-30kg

£20

£15

£24

£22

£22

30.01kg+

£38

£32

£50

£45

£45
3.Tracking and delivery:
(1)Royalmail Large Letter
with tracking number but no tracking details
3-6 business days delivery time except weekends and holidays
(2)Royalmail Track 48H
with tracking number and tracking details
2 days delivery time except weekends and holidays
(3)Hermes 2 days
with tracking number and tracking details
2 days delivery time except weekends and holidays
(4)Parcelforce/DPD next day
Next day delivery except weekends and holidays (UK general area only)
Tracking number updates

All orders placed before 10a.m will be processed same day except weekends and holidays. Tracking number will be added to the order same day too except DPD. DPD tracking number should be updated next working day.

Tips:
Parcelforce/DPD next day for purchase over £30 in UK general area only.

UK local warehouse. Dropship to the whole UK country only.

Any questions, feel free to contact us. Email: xhr-dropship@outlook.com